ENTRY INFORMATION AND RULES
Click HERE to download a PDF file of the show packet

When: Saturday, September 20, 2014

Where: 11400 Diamond Park Rd., Interlochen, Michigan (15 miles SW of Traverse City)

What Time: Setup time: 9:00 a.m., Show begins: 10 a.m. Lunchtime: 1-ish,

Show Hostess: Sue Sudekum, 11400 Diamond Park Rd., Interlochen, MI 49643
Ph (231) 275-3271, E-mail: ssudekum1@gmail.com

DIVISIONS

Original Finish Halter
Breyers, Stones, Ertls, Hartlands, CollectA, Schleich, etc. Incl. Factory Customs, North Lights, Chinas incl. Hagen-Renaker, Pour Horse, AAA, Beswick, Horsing Around, etc. Limit 4 entries per person per class.

Custom/Artist Resin Halter
Any mass factory-produced model that has been modified AFTER leaving the factory: repainting, etching, rehairing, repositioning, etc. Resin or china/porcelain produced by an individual artist, and finished by said artist or other independent artist. Custom glazes included.

Limit 4 entries per person per class.

Open Performance
Custom and Original Finish compete together. Limit 3 entries per person per class.

Both Halter divisions run concurrently; after Halter, Performance.

Theme: The Future!! Space Ships, Robots, Mad Max Times, The Future!

Fee: $30.00. Deadline for RSVP is Friday, September 19. You can pay the day of the show.
Proxy Showing: $15.00.

Entry Limit: NONE. But keep in mind this is at my house, and you will have to BRING YOUR OWN TABLE, so don't go nuts! We'll be showing in the garage, but will have space for set-up in the house and in the yard (weather permitting).

Awards: Eco-friendly sustainable ribbons (okay, paper) 1st-10th. Recycled commercial rosettes to Champs/Reserves, repurposed Trophies to Major Champs/Reserves.

Usual Live Show Rules In Effect: No live animals (resident Corgis and visiting OES and chickens excepted), no bad language, no bad attitudes, no smoking or booze, etc., etc. (at least 'til after the show)

Show Tags: Each show model must have a sales type tag attached to its leg, with horses' breed and gender on one side, name and owner's initials on the other. Tags must be placed FACE DOWN when a horse is placed on the show table (face down being the horses' name)

Judging Order: Halter classes will be run at the same time! Please plan accordingly. Performance after Halter and Fun Classes.

Show Results: Show results to 6th place, but placings to 10th. Please keep track of your First and Second placings for the Championship showbacks.

Show-Backs for Championships: The first and second placing horse in each class will be called back for the divisional championship show-backs, so it is very important to keep track of your placings so you don't miss out! Each minor champion and reserve will then compete for the Overall Championships.

Lunch Break: 1 p.m. give or take an hour. If you'd like to bring a dish to pass, please do, let's make a big feast! There is a Subway, Pizza place, and Wendy's and Bud's (awesome burgers!) within a 5 mile radius if you prefer something else.

The Show Hall: The Show Location is approximately 13 miles west of the US-31/M-37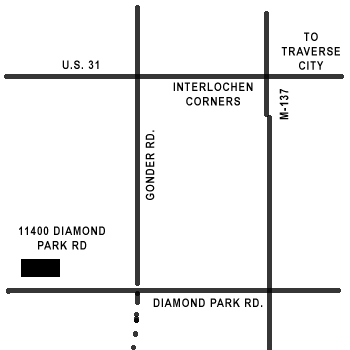 junction south of Traverse City. Drive west on US-31 to Gonder Rd. (a couple of miles West of Interlochen), Turn south on Gonder Rd. (at the orange motorcycle store) a couple of miles to Diamond Park Rd. (which then turns into Bush Rd. (dirt), turn east and go 3/8 mile to show site (white ranch house with brown trim).
Local Accommodations: Check out the Traverse City Visitor's and Convention Bureau web site: www.mytraversecity.com for a large list of hotels and motels in the area. The Interlochen Motel (www.interlochenmotel.com) is very close to the show hall and offers reasonable off-season rates. If you have any questions, please let me know! I'm looking forward to hosting this show once again, and hope to see y'all there!
Sue Sudekum
Show Hostess