---
The Saga of the Yellow Horse
He was the subject of ridicule. Maligned for years as the model horse that deserved the least respect. Whenever someone wanted to describe something common and undesireable, they would use his name. Although he had a long and distinguished career, originating in 1961 and providing joy and delight to millions for over 25 years, still he was lacking in respect and value. He was, and is, Number 4, the Breyer Family Arabian Stallion in Matte Palomino;
GOOD TIMES!
Produced in the late 1980's, this particular Family Stallion is the most delightful shade of lemon yellow. Lacking in nearly any detail and shading, with a most uninteresting matte color and black dots for eyes, this little fellow, adopting the identity of a Morgan/Arabian cross Stallion, set forth to prove his worth, and the worth of all his brothers across the world!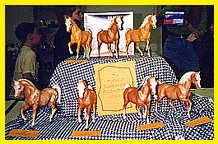 His show career began humbly as a member of Team-FAS. With his teammates he made his showing debut at the Kalamazoo Valley Live Show April 27, 1996, in the now-infamous FAS Collector's Class! Although totally unappreciated by the judge, Good Times and his brothers-in-Tenite proved to be a favorite with the crowds!
Almost two months later, Good Times made his solo Live Show debut at the Great Lakes Model Horse Association Expo held in Lansing, Michigan on June 22, 1996. Although he failed to come through in the halter competition, once the performance classes were underway, his true virtues shone through like the brilliant gold they are!!

Amazing the crowds, he placed first in the Original Finish Costume class with his dazzling, custom-made Arabian Costume, thereby qualifying him for the North American Nationals in 1997. Further placings included 2-seconds, 3-thirds, 2-fourths, fifth, and a sixth place in such diverse events such as Handy Hunter, Western Pleasure, Harness, Potato-spearing, team-penning and the now-famous All-FAS Quadrille!
When the time came for the call-backs for Championships, Good Times pranced proudly in the line-up! Imagine the joy and astonishment when this common, low-priced, loud-colored little horse won, above all others, Champion Other Performance, Original Finish Division! As far as we know the one and only Matte Palomino Family Arabian Stallion to accomplish so much in such a short time!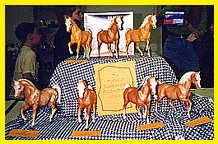 In July of 1996 the Jaundiced Invasion headed for Lexington, Kentucky, for the annual Breyerfest Live Show! Yellow was the Color of the Day, from the horses on the tables, to the shirts on the backs of the showers, to the Breyer Logo itself! The All-FAS Collector's Class attended and caused quite a stir among the crowd, and even won 9th place in the Popular Vote, beating out legitimate collection displays complete with Woodgrains and Glossies!! Good Times himself was only able to compete in one class due to the show rules, but he did look resplendent in his Custom-Made Arabian Costume. Due to time constraints he was unable to perform in "Anything Goes" as a bag of Cheetos, but there's always next year...
Good Times has been retired to pasture, but his many offspring are sure to carry on the tradition!
---