Welcome to Quzqo's Photo Album! This little addition to my family occured this past May of 2004, not four days after the death of my dear old horse, Tezlu, whom I had the pleasure of knowing for 15 years. Quz was essentially a rescue from a livestock auction down by Chicago. I have no idea of his roots, his training, his original name, or anything about him. This has made out "relationship" quite interesting, trying to guess and learn just what he does know. The vet estimated his age at around 6 years old, and he's positively had some good training to the green level at least. I'm looking forward to at least another 15 years (hopefully much much longer) with him!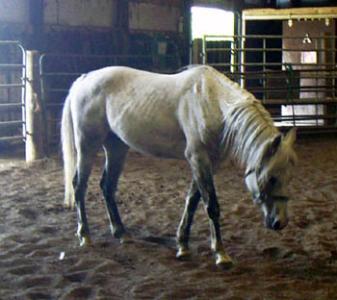 May 2004 - Pound Pony
This is Quzqo before I bought him, fresh from the wholesale livestock auction. Pretty scruffy, but such a sweetie! Even loose in the arena, he followed me around like a dog, always staying close and being so focused on whatever I did.